Our mission is to create "endearing products" that are unique for every individual user. To fulfill this mission, we have kept pursuing materials that will be core to our product creation.

It was through this journey that we came across Mylo™. This page introduces this new material in detail.
Mylo™, a next generational material
derived from mushroom mycelium.

The material we decided on is Mylo™. It is a new material developed by Bolt Threads, a cutting-edge biotech company based in the United States. Mylo™ is an alternative to leather, made from mushroom mycelium (the root-like structure of mushrooms).

It has a high-quality texture and gentle touch and can be given various expressions through processing, so it can be tailored for a variety of products.
The only requirements for the growth of the mycelium are water, air, and mulch such as sawdust (to cover the surface of the medium during the growth process).

The cultivation site is a vertical farming facility that runs on 100% renewable energy and can grow in short cycles of less than two weeks, ensuring a stable supply.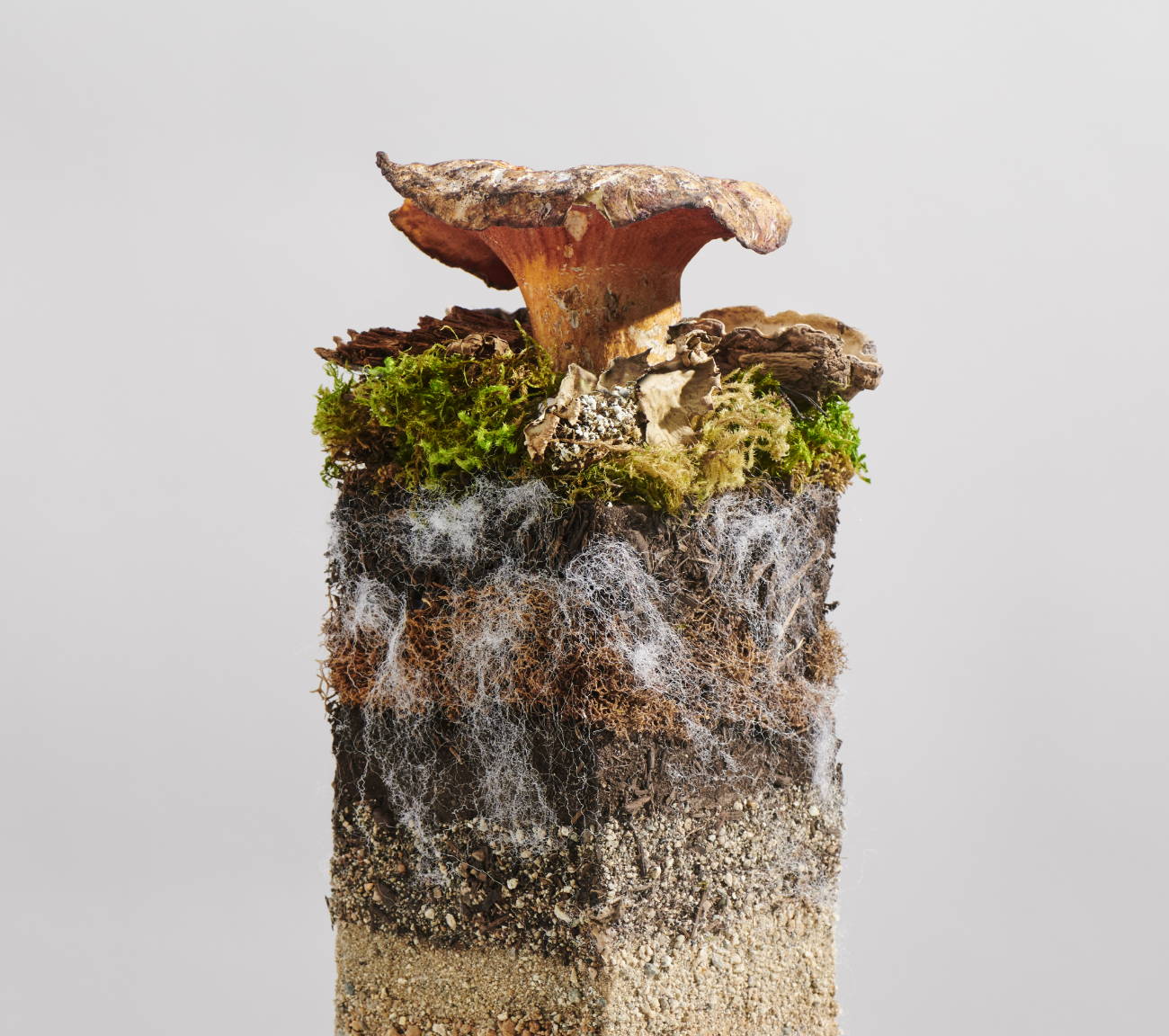 What is Mycelium?

Mycelium is a root-like structure that makes up mushrooms and other fungi. It mainly refers to the filamentous and fibrous tissue that is similar to the roots of a plant and has a fluffy white texture and appearance.
How is Mylo™ produced?
1. Grow mycelium

Mycelial cells are fed sawdust and organic material while controlling the humidity and temperature among other variables. The growth period is less than two weeks.
2. Production of Mylo™

The grown mycelium is harvested and turned into a sheet-like substrate which is compressed and dyed. Residual material after harvesting is composted.
3. Processing and finishing

The sheet-like substrate is embossed, dyed, and pressed. Then surface finishings to adjust its strength, thickness, and softness is applied to create a leather alternative that looks and feels similar to leather.
Texture and quality as an alternative to genuine leather
Mylo™ is a material made of 85% mushroom mycelium and 15% ​​recycled fiber (lyocell) coated with a water-based polyurethane. The fine fibers of the mycelium give Mylo™ a soft feel, high quality texture, and sufficient strength that looks and feels similar to leather.

Its flexibility can be adjusted through the production process, so that it can be used in a variety of products.

Lyocell is made from eucalyptus wood, grown in afforestation projects and managed forests.
The characteristics of the Mylo™ material are different from genuine leather. objcts.io has established manufacturing techniques unique to Mylo™ through a repeated process of sample production, strength tests, and usage test.

The homogeneousness of Mylo™ is higher than genuine leather which results in a higher yield of parts extraction for production.
Opening up the future of craftsmanship by
combining two types of "Creation"
We are fusing innovative "Material Creation" with
"Endearing Product" craftmaking.
The collaboration of Bolt Threads and objcts.io
will spawn a new type of "Creation".
The process of creating an
"Endearing Product" with Mylo™ is under way.

Mylo™ Wallet Bag
46,000JPY (Incl.Tax)

Mylo™ iPhone Case
16,800JPY (Incl.Tax)